YAMAHA JETSKISHOP CUSTOM VXR
SOLD
---
Yamaha VXR Jetskishop Custom Edition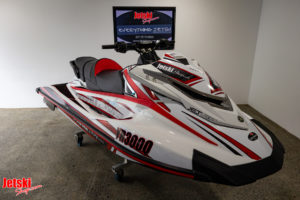 Status = SOLD

3 Seater
4 Stroke
Mechanically Inspected
Full Factory Service completed
Warranty
Road trailer included
QLD rego included
Insurance Available
Finance Available
Yamaha VXR CUSTOM JETSKISHOP EDITION.
In White, Red and black. Jetskishop theme sticker kit with loads on bonus extras….
This is the New model with RIDE (on water brakes)
ROLLER TRAILER INCLUDED
1800cc,4 cylinder, 4 stroke, over 200HP , Fuel injected.
3 seater Sports muscle craft.
This watercraft will blast you and your passenger out and in the waves and water, while maintaining a predicable ride line, making it easy for new rider and equally challenging the more experienced riders.
All New- Fast and Powerful VXR.
Extras included- NanoXcel Hull, largest engine capacity in any jetski, and reverse, + more…
Owned by Jimmy The Jet. Has had full factory Service. Our Fastest non supercharged ski!!
Custom EXTRAS:
LED Nav lights. Jetleds Navigation lights mounted under mirrors.
LED Rear under water lights- choose and changes lights with phone app
LED Whip pole RGB- controlled with remote.
LED Strobe flashers
High performance air intake system
Ribbon Delete kit
Riva Ride plate with Custom powder coat
Custom Steering nozzle in red powder coat
Riva Free flow exhaust system
Riva Handle bars
ODI grips
Worx racing billet alloy steering stem
Worx racing sponsons
Custom pitch skat trak impeller
Map Tunner X custom map/ tuning on ECU.
2 tone Black and red Hydro turf mat kit
Crystal Serum Paint protection
Why not buy from a Jetskishop dealer and know you get piece of mind with a warranty, guaranteed clear ownership title, and All your QLD transport paperwork completed for you.
Watercraft and Trailer package:
1 x Yamaha VXR 1.8L 2016 in White with custom sticker kit
1 x Roller trailer
1 x warranty
1 x QLD rego
SOLD
Finance and Freight available to anywhere just ask for a quote
Melbourne $650
Sydney $550
Jetskishop is the largest dealer of used jetskis in Australia, check out our range at
www.jetskishop.com
– no one has more or better watercraft than us. All hand picked, mechanical inspected & serviced. Backed up by a warranty from us.
Jetskishop.com was established in 2000 and remains the most original Jetski shop in Australia owned and operated by James. Call direct for any questions/ enquirers or support 0403 1984 84. Dont forget if your buying private, ask for a copy of a pre purchase inspection, If it doesn't have one, then we can help for only $220.
Jetskishop.com
New & Used Watercraft Sales.
Workshop Service and repairs
Official Honda dealer
1/10 Expo Crt Ashmore
PH: (07) 55 91 6660
FAX: (07) 5591 6676