Honda F-15 2009
Visit us
---
Honda F-15 2009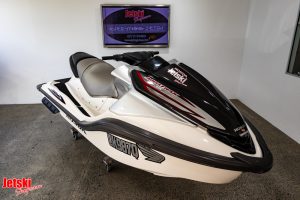 Status = Currently Available
Visit us
3 Seater
4 Stroke
Mechanically Inspected
Full Factory Service completed
Warranty
Road trailer included
QLD rego included
Insurance Available
Finance Available
Honda F-15 in White, 2009.
Only 223 hours.
3 seater, 1500cc, Non -turbo, 4 stroke, 160 HP,
*IF YOU ARE READING THIS AD – you know what this ski- the worlds best sport tourer ski ever built! this particular ski is a rare find.
If you are interested please come into the showroom to view and discuss,
A 160hp watercraft, with all large hull design making the rough water feel smooth, predictable and Very dry . Yes, this Sports tourer is amazing, has a lot of storage space, The Most fuel efficient engine on the market, including an Hour and minute fuel calculator. The ability to save more fuel again and limit the performance for less experienced riders down from 4 cylinders to 3 cylinders. CAN DRIVE FROM SOUTHPORT TO NOOSA ON 1 TANK OF FUEL!!! OVER 220KMS, also twice as good on fuel as other skis.
One owner- presents as new.
Sold new Buy us in 2010.
Always serviced at jetskishop.
Best example of being flush and washed perfectly every time. I challenge you to find a better F-15 in Australia.
Full Factory Service inc service parts just installed and completed.
Why not buy from a Jetskishop and know you get piece of mind with a warranty, guaranteed clear ownership title, and All your QLD transport paperwork completed for you.
Jetskishop is the most original Jetskishop in Australia
Watercraft Package-
1 x Honda F-15 in white, 2009. 223 hours.
1 x Roller trailer
1 x Rego
1 x warranty
Drive away $…. Come visit our showroom.
Contact james@jetskishop.com
PH: 07 55 916660
Jetskishop is the largest dealer of used jetskis in Australia, check out our range at www.jetskishop.com – no one has more or better watercraft than us. All hand picked, mechanical inspected & serviced. Backed up by a warranty from us.
Jetskishop.com was established in 2000 and remains the most original Jetski shop in Australia owned and operated by James. Call direct for any questions/ enquirers or support 0403 1984 84. Dont forget if your buying private, ask for a copy of a pre purchase inspection, If it doesn't have one, then we can help for only $220.
Sign up today for our free social club, we hold ride days for all levels of experience, go to www.jetskishop.com to view our past and upcoming events. We trade your Kawasaki, Yamaha, Sea-Doo, Honda, jet ski, PWC, Bikes, Boats- ask about an upgrade.
Jetskishop.com
New & Used Watercraft Sales.
Workshop Service and repairs
Official Honda dealer
+ New Honda Scooters….
1/10 Expo Crt Ashmore
PH: (07) 55 91 6660
FAX: (07) 5591 6676