Sea-Doo GTX 155 2015 (26 hrs)
SOLD
---
Category:
Sea-Doo Jetskis
Sea-Doo GTX 155 2015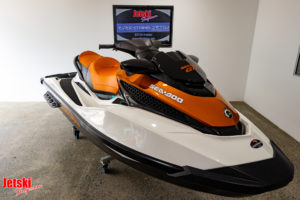 Status = SOLD
3 Seater
4 Stroke
Mechanically Inspected
Full Factory Service completed
Warranty
Road trailer included
QLD rego included
Insurance Available
Finance Available
Sea-Doo GTX 155 4-tec, 2015 model watercraft ,
In White/Orange and Black.
1500cc, 3 cylinder, 4 stroke, 155 HP, closed loop cooling system,
Just serviced, very very clean, 26 hours. S3 hull.
Extra comfy and and dry. Nothing else rides like this!
This 3 seater can pull water skies, wakeboards, tubes and more..
extra reliable with this non- supercharged designed engine, cheaper on fuel and less servicing costs.
Perfect family watercraft or for anyone wanting to get out on the watercraft with a 4 stroke jetski.
Equipped everything, Cruise control plus with Choose between sports mode with FULL POWER or touring mode to save on fuel, has the new Sea-Doo brakes, 2 keys (1 fast & 1 slow), dry storage, and lots more features..
Lots of storage space, and very stable.
Ready to Ride!!
Why not buy from a Jetskishop and know you get piece of mind with a warranty, guaranteed clear ownership title, and All your QLD transport paperwork completed for you.
Jetskishop is the most original Jetskishop in Australia
Why not buy from a Jetski dealer and know you get piece of mind.
Watercraft and Trailer package:
1 x Sea-Doo GTX 155 2015 with 26 hours
1 x Jetski trailer Included
1 x warranty
1 x Balance of QLD rego
Finance and Freight available to anywhere just ask for a quote
We trade PWC, Bikes, Boats- ask about an upgrade.
Jetskishop is the largest dealer of used jetskis in Australia, check out our range at www.jetskishop.com – no one has more or better watercraft than us. All hand picked, mechanical inspected & serviced. Backed up by a warranty from us.
Jetskishop.com was established in 2000 and remains the most original Jetski shop in Australia owned and operated by James. Call direct for any questions/ enquirers or support 0403 1984 84. Dont forget if your buying private, ask for a copy of a pre purchase inspection, If it doesn't have one, then we can help for only $220.
Sign up today for our free social club, we hold ride days for all levels of experience, go to www.jetskishop.com to view our past and upcoming events. We trade your Kawasaki, Yamaha, Sea-Doo, Honda, jet ski, PWC, Bikes, Boats- ask about an upgrade.
Jetskishop.com Pty Ltd.
New & Used Watercraft Sales.
Workshop Service and repairs
Official Honda dealer
1/10 Expo Crt Ashmore
PH: (07) 55 91 6660
FAX: (07) 5591 6676