Sea-Doo GTX iS 215 2010
$8990
---
Category:
Sea-Doo Jetskis
Sea-Doo GTX iS 215 2010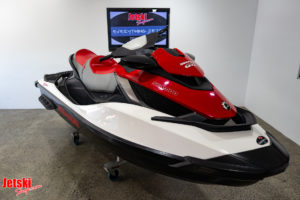 Status = Currently Available
8990
3 Seater
Supercharged
Mechanically Inspected
Full Factory Service completed
Warranty
Road trailer included
QLD rego included
Insurance Available
Finance Available
Sea-Doo GTX iS 215 4-tec, 2010 model watercraft ,
In White/Maroon and Black.
1500cc, Super charged, 3 cylinder, 4 stroke, 215 HP, closed loop cooling system,
Just serviced, very very clean, 161 hours. S3 hull.
Suspension model, Extra comfy and and dry. Nothing else rides like this!
This 3 seater can pull water skies, wakeboards, tubes and more..
Perfect family watercraft or for anyone wanting to get out on the watercraft with a 4 stroke jetski.
This has the extras:
Equipped everything, Cruise control plus with Choose between sports mode with FULL POWER or touring mode to save on fuel, has the new Sea-Doo brakes, 2 keys (1 fast & 1 slow), dry storage, rear boarding step, and lots more features..
Lots of storage space, and very stable.
Ready to Ride!!
Why not buy from a Jetskishop and know you get piece of mind with a warranty,
guaranteed clear ownership title, and All your QLD transport paperwork completed for you.
Jetskishop is the most original Jetskishop in Australia
Why not buy from a Jetski dealer and know you get piece of mind.
Watercraft and Trailer package:
1 x Sea-Doo GTX iS 215 2010 with 161 hours
1 x Jetski trailer Included
1 x warranty
1 x Balance of QLD rego
All drive away now for only $8990
Jetskishop.com Pty Ltd.
New & Used Watercraft Sales.
Workshop Service and repairs
Official Honda dealer
1/10 Expo Crt Ashmore
PH: (07) 55 91 6660
FAX: (07) 5591 6676