Sea-Doo Spark TRIXX 2018
$9990
---
Category:
Sea-Doo Jetskis
Sea-Doo Spark TRIXX 2018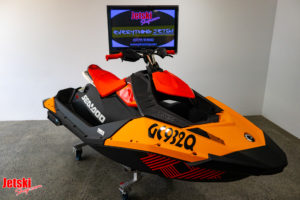 Status = Currently Available
9990
2 Seater
Fuel Injected
Mechanically Inspected
Warranty
Road trailer included
QLD rego included
Insurance Available
Finance Available
Sea-Doo 2018 Spark TRIXX 2 seater with IBR.
90 HP in Black and Orange.
ONLY 4 Hours!
On road trailer.
900cc ACE engine, closed loop cooling system.
has sports and touring power modes.
TRIXX EXTRAS:
HANDLEBAR WITH ADJUSTABLE RISER
A telescopic steering system that optimizes the experience for varying rider sizes
STEP WEDGES
Provides enhanced stability and confidence in different riding positions making it easier to pull off tricks like a pro.
EXTENDED RANGE VTS™ (VARIABLE TRIM SYSTEM)
Offers double the range of the regular VTS™ for easier and more exaggerated tricks.
great on fuel, low running costs. This is up-spec model of the spark range. The IBR give it on water brakes and electronic forward & reverse controls.
Includes trailer.
Why not buy from a Jetskishop dealer and know you get piece of mind with a warranty, guaranteed clear ownership title, and All your QLD transport paperwork completed for you.
Watercraft & Trailer package.
1 x Sea-Doo 2018 Spark Trixx WITH IBR 90HP 4 hour.
1 x Used trailer
1 x warranty
1 x QLD rego
On Sale for only $9990 drive away.
Jetskishop is the largest dealer of used jetskis in Australia, check out our range at www.jetskishop.com – no one has more or better watercraft than us. All hand picked, mechanical inspected & serviced. Backed up by a warranty from us.
Jetskishop.com was established in 2000 and remains the most original Jetski shop in Australia owned and operated by James. Call direct for any questions/ enquirers or support 0403 1984 84. Dont forget if your buying private, ask for a copy of a pre purchase inspection, If it doesn't have one, then we can help for only $220.
We trade your Kawasaki, Yamaha, Sea-Doo, Honda, jet ski, PWC, Bikes, Boats- ask about an upgrade.
Jetskishop.com Pty Ltd.
New & Used Watercraft Sales.
Workshop Service and repairs
Official Honda dealer
1/10 Expo Crt Ashmore
PH: (07) 55 91 6660
FAX: (07) 5591 6676