Sea-Doo Speedster 230 SP
$68,990.00
---
Category:
Sea-Doo Jetskis
Sea-Doo Speedster 230 SP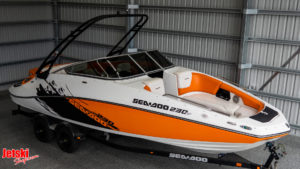 Status = Currently Available- by appointment only
68,990.00
12 Seater
TWIN Supercharged Engines
Mechanically Inspected
Full Factory Service completed
Warranty
Road trailer included
QLD rego included
Insurance Available
Finance Available
Sea-Doo twin supercharged 4 stroke engines producing 430 horsepower, this will take the whole family and extra friends.
Black Powdered coated wake tower.
Tinted windows.
Fully serviced.
New tyres.
Finance is available- ask for a quote.
Includes:
QLD Rego
Warranty
Boat cover
2-4 hour hand over and education on launching and retrieving, plus personal guide to owner maintenance.
————————————————————————————————–
A 23-foot (7 m) crossover packing the versatility of the Sea-Doo boats Challenger family with wake-boat attitude. Customize the Ski mode for a rider and driver. With a foldable arch tower for boards, ample space for gear and bolster seats for better visibility. And ECO mode holds you at the best on-plane range for optimal fuel economy.
Another ingenious mode is the Ski mode, which is perfect for any kind of recreational towing behind this boat. It allows the driver to program the power, pull and top speed, based on the skill level of the person being towed. As a result, the boat will always start and pull at the same consistent speed, and will reach and maintain whatever top speed it has been programmed to achieve, providing the perfect launch every time.
Additionally, there are two other modes that stand out on this boat. With ever rising fuel costs, the nifty little ECO mode is a very welcome feature. It is designed to optimize fuel economy by running the boat at the best on-plane range and holding it there. And for those long open runs, the cruise control mode will certainly be appreciated as it effortlessly maintains your speed while you focus on executing those perfectly smooth wide arcing turns.
Check out this review from Trade boats.com
"It wasn't too long ago that skiers were modifying their vessels for wakeboarding. Now it's hard to find a skiboat that is not at least optioned with huge stereos and speaker towers that only hide what are sophisticated tow points and wakeboard racks while the interiors are nothing short of a floating lounge room.
Hiding under all that bling is plenty of power, traditionally dominated by large American V8s with more than 400 ponies pushing them along, but it was a pleasant change to be behind the wheel of a Sea-Doo wakeboat, producing the same horsepower, but with twin, three-cylinder, supercharged Rotex jet engines.

The big 7.1m Sea-Doo 230 SP is a pure wake or skiboat that is extremely well designed and a genuine competitor in a market dominated by prop-powered hulls.

PRO TEST
To review the 230 Wake, TrailerBoat loaded her up with your usual wakeboard enthusiasts, including a pro wakeboarder to see how the Sea-Doo performs under normal wakeboarding conditions.

Testing the handling and performance of the twin 215hp supercharged Rotex engines was the first mission and I found that the big 7.1m hull actually started to feel like a real boat. Gone was the razor-edge handling of the small jet-powered hulls that makes these smaller versions feel a lot like spacious jetskis, instead the 230 had to be driven, and respected as a genuine ski hull.

Maneuvering is done with both the throttle and the steering wheel, so it took a couple of passes to get the feel of the 230. Jetboats steer by having the jet nozzle pivot and therefore shifting the propulsion axis of the boat. The more water that comes out of the nozzle, the more propulsion and steering you get. This all translated to a vast change in the turning circle in relation to the amount of steer and power that was being applied.
It takes a little while to be confident enough to accelerate into a corner that is too tight to complete at a slower speed, but 30 years of spinning a prop makes operating a jet hull a new learning curve. With a little practice, the 230 can certainly turn virtually on itself.
The small Rotex engines produced the grunt needed, but there are some benefits of this configuration over V8 engines. The Rotex doesn't have saltwater running through the block to cool it, increasing the longevity of the engines through its closed loop cooling system.
NO CAVITATION
We were unable to record exact fuel figures for the Sea-Doo, but the dual jet engines were very efficient during the test, and with jet propulsion there is no cavitation that can come from a slipping prop trying to get a hull and skiers out of the water.
I have to admit to being a rev head and say that I did miss the rumble of a V8 and the crunch of a suicide clutch, but the performance of the 230 Wake left me in no doubt that Sea-Doo have a genuine, large wakeboat that has the performance that we have come to expect from our skiing hulls.
With a total of 430hp providing the thrust, the 230 SP had plenty of power to do the job of both cruising and pulling wakeboarders out of the water.
Reversing the hull was also a challenge for someone used to operating a prop due to everything being back to front. Turning to the right sends the transom left and instead of having a drop in the transom when reversing it tended to lift. It is true that a jet-powered hull can maneuver in extremely shallow water, but reversing the engines into the beach must be done carefully to avoid picking up any sand and sending it through the jet. With just a small amount of practice, jet engines are very simple to operate and the 230 was no exception.
FAST COMFORT
The hull is designed for speed so we weren't expecting the comfort that you'd achieve from a steep deadrise but the weight of the hull, especially with loaded ballast tanks and a sharp entry point of the bow, made the hull very comfortable. Taking into consideration that the test was done on Queensland's Moreton Bay, this was even more impressive considering these hulls are traditionally operated in rivers and lakes. The wide reverse chine added to the hulls stability, proving that Sea-Doo put a lot of research and development into their hulls.

The helm was extremely comfortable to operate with controls in good reach. A dual-stick control box was well positioned starboard of the wheel along with light switches.
The large swim platform had plenty of room to get skis or wakeboards on and off. A small fold-down boarding ladder gave access to the platform from the water and the engine bay at the transom was covered to form a sun lounge.

The waketower gave a nice, high tow point.
WHAT WE LIKED
Closed loop cooling system
Lounge-style seating
No prop lag
Shallow water drive
Specifications: Sea-Doo 230 SP

GENERAL
Type: Monohull
Material: Fibreglass
Length: 7.16m
Beam: 5.59m
Deadrise: 16°
Height: 3.26m (tower up)
Weight: 1519m (dry)
CAPACITIES
Fuel: 200lt
People: 12
ENGINE
Make/model: 2 x Rotax 4-TEC 1503 SC IC
Type: Three-cylinder four-stroke petrol w/ supercharger and intercooling
Rated HP/kW: 215/159 (each)
Displacement: 1493.8cc
DRIVE
Axial flow: Single-stage
Impeller: Stainless steel
Originally published in TrailerBoat #244 "