Honda R-12 2005
$7990
---
Honda R-12 2005 in White & Blue,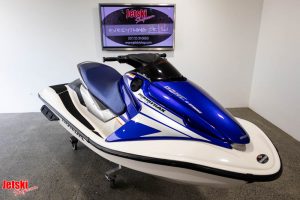 Status = Currently Available
7990
2 Seater
4 Stroke
Mechanically Inspected
Full Factory Service completed
Warranty
Road trailer included
QLD rego included
Insurance Available
Finance Available
Honda R-12 2005 in White & Blue,
Great condition
74 hours
Includes roller trailer.
1235cc, 4 cylinder , N/A 4 stroke, 125HP,
Fuel injected, rego, perfect surf machine or just great to hit the water,
can drive Southport to Noosa on 1 tank of petrol, over 225kms. Quick Ski, Includes reverse, and has race inspired drop trim.
Fully serviced and ready to ride!
Just completed full catch up,
Call to discuss.
Why not buy from a Jetskishop.com dealer and know you get piece of mind with a warranty, guaranteed clear ownership title, and All your QLD transport paperwork completed for you.
Watercraft and trailer package
1 x R-12 2005 in blue with 74 hours
1 x Roller Trailer,
1 x QLD rego
Now, all drive away for only $7990
Contact james@jetskishop.com
Finance and Freight available to anywhere just ask for a quote
Melbourne $660
Sydney $550
We trade your Kawasaki, Yamaha, Sea-Doo, Honda, jet ski, PWC, Bikes, Boats- ask about an upgrade.
Jetskishop.com
New & Used Watercraft Sales.
Workshop Service and repairs
Official Honda dealer
1/10 Expo Crt Ashmore
PH: (07) 55 91 6660
FAX: (07) 5591 6676
www.jetskishop.com
James@jetskishop.com