Yamaha AR 242X 2020
Available- Call now.
---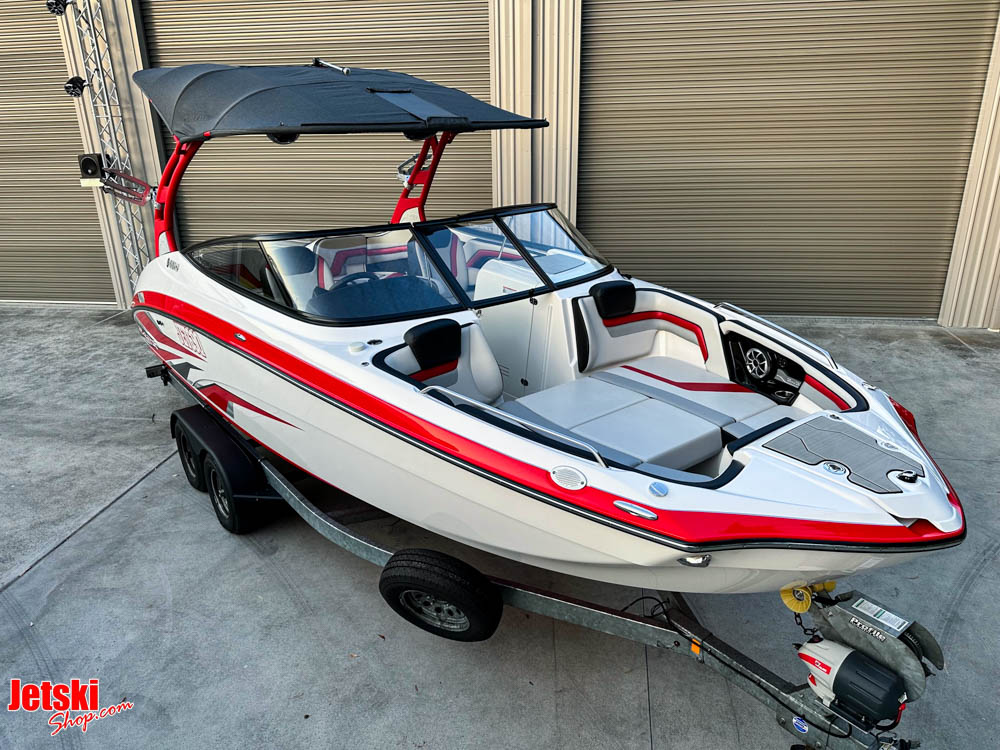 Yamaha AR 242X 2020 in White with Red highlights.
Only 75 hours total!
Check out this amazing "like New" Jetboat.
12 Seater Sports Wake boat.
Equipped with Yamaha Maring High output Twin 1812cc, 4 Cylinder 4 stroke engine each producing 180HP. Combined 360 HP.
Safety with twin engines.
Very agile, and Family friendly with a length of 7.3m (24ft) in length.
Weighting in at 1830kgs.
Boasting a 190L fuel tank, and on average a range of 190kms.
Flushed and Washed every ride, with Salt away and salt wash. Stored with genuine cover inside a shed with battery tender.
Serviced 3 times and never parked on the sand.
Loaded with Factory extras:
Cockpit and Bow
• Snap-in Marine-Grade Custom Cut Floor Mat
• Removable Dinette Table with Pedestal: Mounts at Cockpit and Stern
• Bow Filler Inserts for Multiple Seating Configurations
• Hinged Seat Cushions • Integrated Drink Holders: Chrome
• Tilt Steering
• Adjustable Captain's Chair with Flip-up Bolster
• Passenger-side Captain's Chair
• Portside Entertainment Area
• Glove Box: Lockable
• Walk-through Bow Door
• Enclosed Head Compartment w/ Upholstered Interior & Light
• Navigation Lights
• Courtesy Deck Lighting
• Dedicated Anchor and Rope Locker
• Bow Reboarding Ladder
• Upgraded Aluminum Handles & Accents
• Cockpit Drainage System (CDS) Stern
• Integrated Swim Platform
• Upholstered Cushioned Seats
• Upholstered Cushioned Backrests
• Additional Wet Storage Behind Backrests with 12-volt Outlet
• Stainless Steel Telescopic Reboarding Ladder
• Dinette Table Mount
• Marine-Grade Mat
• Stern (Wet) Storage
Check out these videos:
This description taken from boat test.com
Brief Summary
The Yamaha 242X E-Series has been updated with important innovations and technologies that not only make the boat ready for wake surfing, they add a whole new dimension to how owners can enjoy this boat. Yamaha has added the NMMA Innovations Award winning Connext Helm Control System that integrates the entertainment features, operational functions, and all the essential systems information in a 12" touchscreen display. This system has an intuitive interface controlled from the high-resolution, glare-proof LCD touchscreen, key pad or joystick controller.
Key Features
Removable dinette table with pedestal that mounts at cockpit and stern
Adjustable Captain's Chair with flip-up bolster
Portside entertainment area
Integrated removable cooler
Bow reboarding ladder and stern integrated swim platform
Additional wet storage behind backrests with 12-volt outlet
Teak-style marine-grade mat
Fusion marine stereo with stern stereo remote
3-position "No Wake Mode™" control
Top speed is just over 80km/ hr.
The Yamaha 242X E-Series is designed and built for family and friends to fully enjoy their days on the water as well as a platform for tow-sport enthusiasts. Wake surfing has become exceptionally popular and Yamaha is acutely aware that dedicated inboard wake surf boats are extremely expensive. The Yamaha 242X E-Series weighs-in at about half the price and still provides a credible wake for surfing. In addition, the Yamaha 242X E-Series introduces some innovative features that make it even a greater value.
Most dedicated wake surf boats have inboard, shaft driven props under the keel. The jet-powered 242X E-Series is inherently safer for all watersports, because there are no external props. With this updated Yamaha, families can enjoy the boating lifestyle they love and add wake surfing to the day's activities.
Better Wake
Jet boats have never been known for their high wakes, but Yamaha is changing all of that with the 242X E-Series. Yamaha also engineered a system to make a surfable wake that has better push, a deep pocket and a clean face they call "Surf Pointe Technology." They adjusted the jet-drive nozzle positions to create the ideal wake and by adding three ballast tanks with a total of 1,400 lbs. of water ballast, the boat sits deep, creating a larger more ridable wake.
These technologies and innovations do not compromise the performance and handling of the Yamaha 242X E-Series. They just give families more reasons to enjoy fun times on the water.
Helm Control System – The NMMA Innovations Award winning Connext helm control systems provides all critical boat and entertainment functions through three devices: a 12" high-resolution LCD touch screen, a dash mounted touch pad or the systems joystick controller. Multiple speeds and acceleration rates can be programed for a dialed in, repetitive performance. It also provides GPS chart plotting.
Aluminum Wakeboard Tower – The color matched tower is complete with a Bimini top that has two positions, a sunroof and a solar battery charger. There are two Wet Sounds™ speakers and a sound bar are mounted on the tower. There are also two wakeboard racks mounted outboard that swivel inboard for loading and unloading.
Custom Tuned Audio Package – Yamaha calls their audio package Wet Sounds™ that includes a Fusion stereo, subwoofer, and a sound bar.
Transom Seating – The award winning, patented, two-tiered transom seating and integrated swim platform provides a social area for interacting with swimmers or for launching watersports.
Plus these extras added to make this the most versatile boat in Australia.
Quick attach Euro Sail front Shade awning.
Fresh water shower with 30L tank.
Ultra bright RGB under water lights.
Garmin Marine GPS and fishing finder with Australian maps.
Pro-fender quick release fenders with socks.
Fusion AUX Mic that allows the captain to talk through the speaker system.
Triple Batteries, 2 hours batteries and 1 start battery.
Custom quick release BBQ mount for the rear with included marine BBQ.
Genuine Yamaha Factory cover.
Twin flush mount rod holders.
Duel anchors, including quick rear anchor for shallow water mooring rear facing at the beach.
Safety Gear included:
Twin Flares and V-sheet
EPIRP
12 x life vests
2 x Pro Fenders with carpet socks
2 x Mooring Ropes
Waterproof box
Mirror
Oar
On trailer, New Tyres, serviced and with 4 wheel Hydraulic brakes, 1 x Spare wheel. LED lights. Upgraded Stainless steel quick release straps.
Drive Away on trailer with rego.
call and discuss- by appointment only.
Half day hand over to educate and provide watercraft ownership orientation. We teach you about how to flush, wash, clean, and operational features plus model highlighted benefits.
Jetskishop is the largest dealer of used jetskis in Australia, check out our range at www.jetskishop.com – no one has more or better watercraft than us. All hand picked, mechanical inspected & serviced. Backed up by a warranty from us.
Jetskishop.com was established in 2000 and remains the most original Jetski shop in Australia owned and operated by James. Call direct for any questions/ enquirers or support 0403 1984 84. Dont forget if your buying private, ask for a copy of a pre purchase inspection, If it doesn't have one, then we can help for only $220.
Contact james@jetskishop.com
Finance and Freight available to anywhere just ask for a quote
We trade your Kawasaki, Yamaha, Sea-Doo, Honda, jet ski, PWC, Bikes, Boats- ask about an upgrade.
Jetskishop.com Pty Ltd
New & Used Watercraft Sales.
Workshop Service and repairs
Official Honda dealer
1/10 Expo Crt Ashmore
PH: (07) 55 91 6660
FAX: (07) 5591 6676